Yesterday morning I was perusing several of my favorite local Capitol Hill community blogs and was thrilled to come across the newest post from the Barracks Row organization announcing a Culinary Education Crawl later in February. This awesome event includes just over a dozen unique classes – like oyster shucking, charcuterie basics, or pasta making – hosted by local restaurants and stores. The classes average are about an hour long each and cost $30 or less. Its moments like this that I love my neighborhood more than I ever thought I would love living someplace.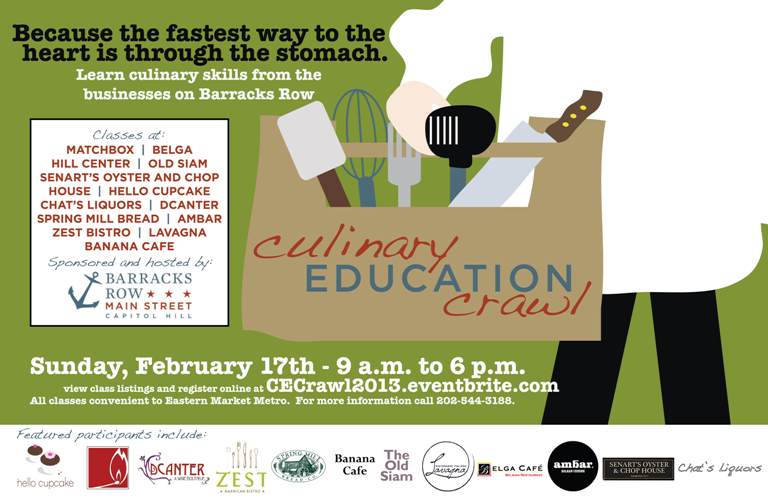 This is an amazing opportunity, since food and cooking classes are often incredibly expensive. Take, for example, the wine class Ruth and I took about a year ago which was over $60 (it was a long time ago, so I don't remember the exact cost). Sure it was amazing, but, for that same price, I could take as many as 3 classes in one day!
As excited as I am, I know that not everyone has opportunities like this one, so that got me thinking about where readers interested in learning a new skill might be able to find cooking classes for themselves. After all, as Julia Childs said, ""You'll never know everything about anything, especially something you love." Here are three easy categories for cooking classes that many of you may have near you.
Dedicated Culinary Schools
First, there are dedicate cooking schools that offer recreational classes for the home cook as well as more structured curriculum for aspiring professionals. In the D.C. area, for example, there is L'Academie de Cuisine where I am going to be taking a couple classes in April as part of a gift I got for Christmas. These classes can be a bit expensive, although they are usually longer than an hour and taught by a professional chef, so the cost may be worth it. These schools are pretty easy to find using a simple Google search for "cooking classes" in your city. In the Boston area you can try The Cambridge School of Culinary Arts and in London there are the "enthusiast" classes at Leiths School of Food and Wine. Both of these options were listed in the top five search results using Google.
Gourmet Store Classes
Another easy option for most people are gourmet food and kitchenware stores. Retail chains like Sur La Table and Williams and Sonoma both offer cooking classes at most, if not all, of their locations across the U.S. and (for Williams and Sonoma at least) Canada. In addition to larger chains, many local businesses also offer classes. For example, there is Hill's Kitchen here in my D.C. neighborhood or classes at Dirk's Fish and Gourmet Shop in Chicago, Illinois. These classes, based on my research, are generally cheaper than the culinary school classes, often between $60 and $80, although they may run a bit shorter and the variety of classes offered is smaller.
Local Parks and Recreation Departments
A third option for cooking classes is community recreational and educational departments. This option is even more accessible for many folks, as most small communities, places where Sur La Table wouldn't consider placing a store, have rec departments. Ann Arbor, Michigan, for example, is offering an entire series during their Winter 2013 series on gluten free cooking, like a gluten free pizza class for $45. Meanwhile, the parks and rec department in Oshawa, Canada has an amazing range of classes this semester, including a classes on cooking for your toddler and learning to cook with herbs.
There are is a wealth of options out there for the aspiring new cook or for the seasoned chef hoping to expand their skill set or understand a type of cuisine better. If you are among that group, I hope this helps you start your own path to even greater culinary excellence. Do any of you have other suggestions for where reader's might be able to find culinary classes?